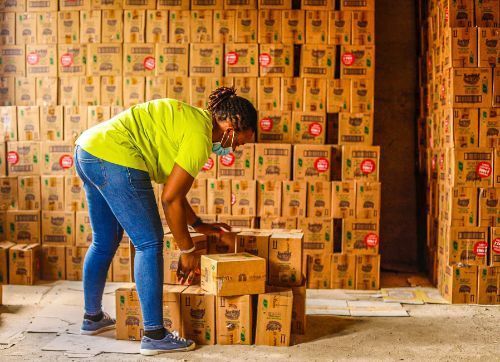 Thanksgiving in the U.S. has passed, but there's still a whole lot to be grateful for. With the biggest shopping days of the year behind us, it's now time to celebrate one of the biggest days of the year for generosity—GivingTuesday! In the words of GivingTuesday.org, "GivingTuesday is an opportunity for people around the world to come together through generosity in all its forms by sharing acts of kindness and giving their voice, time, money, goods, and advocacy to support communities and causes."
In 2020, GivingTuesday raised an estimated $2.47 billion dollars in just 24 hours. We're talking BILLIONS of dollars at stake here! Many foundations or individuals use this day to match funds, which makes the day such a lucrative fundraising event. What are you waiting for? Today is the day! It's not too late to get involved. Check out these five ways to give back this GivingTuesday. 
Donate
The easiest way to participate in GivingTuesday is to give! Check out GivingTuesday.org to find local organizations and charities where you can make a donation. As mentioned above, many organizations participate in matching gifts during these 24 hours, so your donation will go further! 
Raise Awareness
Life is busy, and during the pandemic especially it's hard to keep track of days. Use this as an opportunity to call up your friends to remind them about GivingTuesday! Ask them if they'd be willing to donate to an organization you love, or simply encourage them to participate. People are more likely to give when they have somebody they love directly asking them to participate. Use this as your opportunity to remind them about this wonderful day! 
Start a Fundraiser
Donating is just the start of how you can give back. Come up with a quick way to organize a fundraiser. Even social media platforms such as Facebook are offering fundraisers that you can set up in a manner of minutes to give back and then promote to your followers. 
Even if you don't have time to start a fundraiser on GivingTuesday, as they say—it's the thought that counts. A fundraiser done today or tomorrow or the next week still helps benefit your favorite organizations. 
Volunteer Your Time
Organizations need help of all kinds on GivingTuesday and the days following, so it's not too late to volunteer for this year. Reach out to an organization you love to ask if they need help sending thank yous, calling donors and so much more related to GivingTuesday activities. Even if you can't volunteer your time today, there are plenty of ways to stay involved throughout the end of the year.
Now is the time to take part in the biggest giving day of the year! Celebrate GivingTuesday whether that be through giving your time, your gifts, talents or monetary contributions. Every gift, both big and small, helps make a difference.