The Community Advocates Public Policy Institute provides Stay Strong Milwaukee funding to youth-serving organizations for alcohol and other substance use prevention projects that directly prioritizes adolescents. All organizations are RISE Drug Free MKE members and contribute to the coalition's ongoing efforts to prevent substance misuse among young people. Despite the challenges of engaging youth during the extended Covid-19 pandemic, creative and enlightening Stay Strong Milwaukee-supported activities reached 1,074 youth in 2021.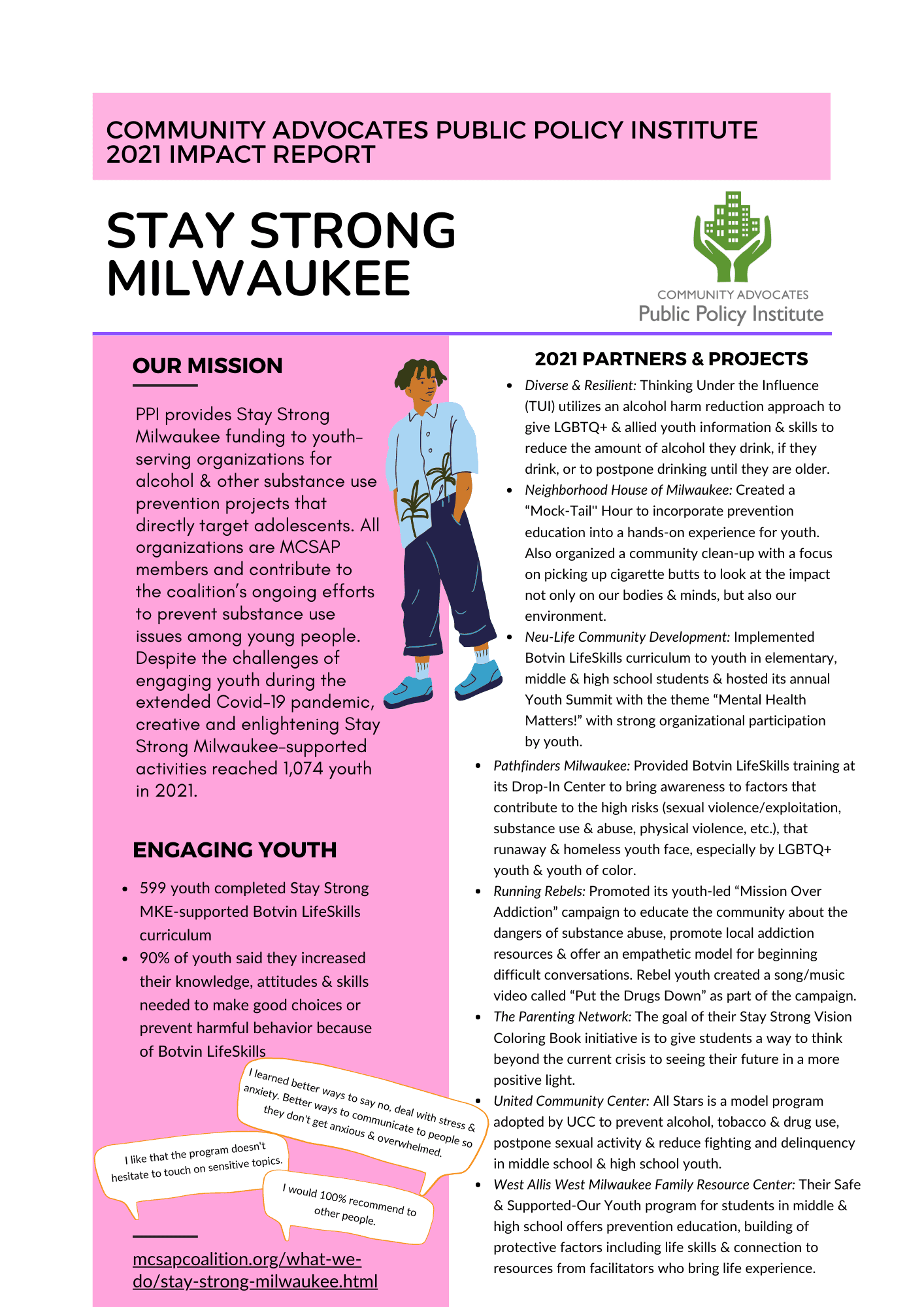 2021 Impact
Our 2021 grantees and their projects were:
Diverse & Resilient: Thinking Under the Influence (TUI) utilizes an alcohol harm reduction approach to give LGBTQ+ & allied youth information & skills to reduce the amount of alcohol they drink, if they drink, or to postpone drinking until they are older.
Neighborhood House of Milwaukee: Created a "Mock-Tail'' Hour to incorporate prevention education into a hands-on experience for youth. Also organized a community clean-up with a focus on picking up cigarette butts to look at the impact not only on our bodies & minds, but also our environment.
Neu-Life Community Development: Implemented Botvin LifeSkills curriculum to youth in elementary, middle & high school students & hosted its annual Youth Summit with the theme "Mental Health Matters!" with strong organizational participation by youth.
Pathfinders Milwaukee: Provided Botvin LifeSkills training at its Drop-In Center to bring awareness to factors that contribute to the high risks (sexual violence/exploitation, substance use & abuse, physical violence, etc.), that runaway & homeless youth face, especially by LGBTQ+ youth & youth of color.
Running Rebels: Promoted its youth-led "Mission Over Addiction" campaign to educate the community about the dangers of substance misuse, promote local addiction resources & offer an empathetic model for beginning difficult conversations. Rebel youth created a song/music video called "Put the Drugs Down" as part of the campaign.
The Parenting Network: The goal of their Stay Strong Vision Coloring Book initiative is to give students a way to think beyond the current crisis to seeing their future in a more positive light. The coloring book was professionally printed & given back to the students who contributed & to students in the younger grades to color.
United Community Center: All Stars is a model program adopted by UCC to prevent alcohol, tobacco & drug use, postpone sexual activity & reduce fighting and delinquency in middle school & high school youth.
West Allis West Milwaukee Family Resource Center: Their Safe & Supported-Our Youth program for students in middle & high school offers prevention education, building of protective factors including life skills & connection to resources from facilitators who bring life experience.