Milwaukee County has been hit hard by the (mis)use of prescription opioid painkillers and other opiates, including heroin, fentanyl, and other synthetics. The RISE Drug Free MKE coalition places a special focus on preventing the (mis)use and abuse of these powerful drugs so that addiction and overdose can be avoided and lives can be saved.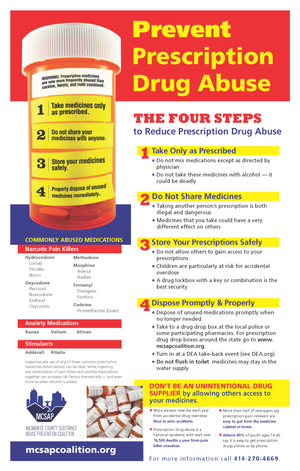 To address Milwaukee County's opioids crisis, the RISE Drug Free MKE coalition has participated in these activities:
Encouraging safe storage of medication by distributing lock boxes to ensure that properly prescribed and used medication is stored safely and securely and providing deactivation kits to easily and conveniently destroy unwanted medication at home
Promoting secure, 24/7 drug drop-boxes at local law enforcement, fire departments, and university sites so that unwanted medication is removed from homes
Supporting the addition of secure drug drop-boxes at local pharmacies, health care facilities, and easily accessed sites through our partner Take Back My Meds Milwaukee
Sponsoring public service announcements shown before film screenings  and on TV and social media to encourage responsible use and storage of medication
Partnering on the Wisconsin Opioid Project, a multimedia campaign providing support to those coping with opioid (mis)use and active addiction and offering information about the warning signs of opioid (mis)use and overdose.
Organizing the youth-led public service announcement "My New Friends" video to warn against trusting friends who offer appealing but dangerous drugs.
Promoting the Dose of Reality campaign at eight Marquette University basketball games per season by providing outreach to fans; giving away playing cards featuring eight star players, Coach Steve Wojciechowski, and facts about prescription drug (mis)use; and running PSAs on the scoreboard during the game.
Hosting the Reality Check Drug Awareness Program so that adults can learn common signs of substance (mis)use in young adults.
Offering Drug Impairment Training for Educational Professionals (DITEP) to enable those who work in schools to recognize the signs of drug and/or alcohol impairment.
Offering Senior Safety Talks at senior living centers and churches with collections picked up by local law enforcement.
Building alliances with local pharmacists and members of the health community to exchange information on safe prescribing and disposing of medication.